Quartzsite, Arizona is a different world.  It's home to (literally) countless RVs, vans and tents during the fall, winter and spring months.  Among these winter visitors are retirees seeking warmer weather, young and middle-age peddlers looking to make a buck and hippies young and old.  Outsiders might consider life in Quartzsite to be one level above homelessness, but to the regulars, it's an Winter oasis.  Vast swaths of Bureau of Land Management property allows 14 day camping or up to a seven month stay with a relatively inexpensive season pass.  It seems fitting, therefore, that the local radio station should be somewhat unique.  And boy howdy, it is.
First, a history lesson from none other than QGoLive Creator Lee Harris, who wrote an article about KBUX for Radio World in 1995 and finally got to visit the station in person in April of 2022.
If you're looking for the Reader's Digest version, the station that once started in the spare bedroom by a man with no prior radio experience (other than once changing the lock on a radio station) now occupies a good portion of the house.  The ownership also changed after Buck Burdette's passing when Marvin Vosper bought the station in 2011.  Vosper had already formed a Lease Management Agreement with Buck and Maude Burdette in 2004.
Tragically, Vosper was killed in a car accident October 8, 2021, eight months after my visit to the station and just days before he'd be finished with his day job as a television broadcast engineer for Christian television network KTBN in California and devote his attention full time to radio in Arizona.
Vosper had basically been a weekend warrior since the late 1970s, devoting his weekdays to television to support his family, and his weekends enjoying his love of radio.  Now, thinking back to Vosper pointing at various projects he was looking forward to tackling and now knowing he was just days away of being able to devote his full attention to his dream of operating and engineering his station along with his family is truly heartbreaking.  Marvin's son Dennis Vosper has been living in Quartzsite and helping with the station since 2018, and in a Facebook post, he says his family and mother Donna will continue to build his father's stations in his memory.
I only got to spend an hour or so with Marvin, but anyone who knew him will tell you he was a very competent broadcast engineer, always put his family first, and was loved deeply by his community and kin.
Let's take a look now at how the station looked in early 2021 when I had the chance to visit, guided by Marvin and Dennis Vosper, starting with the original spare bedroom.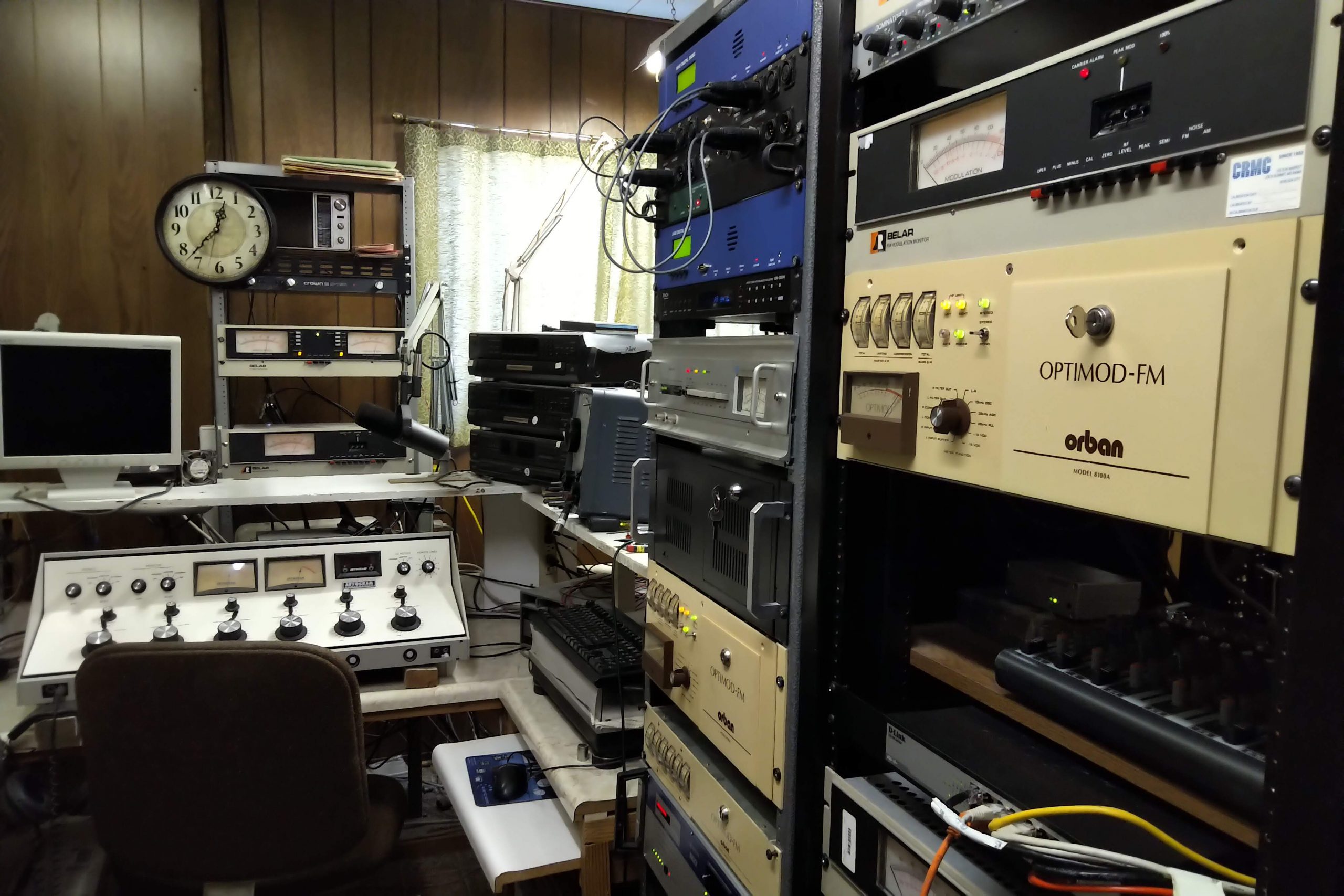 The Ramko stereo console has been replaced with an Autogram, but there's still a cart deck hiding to the right of the console.  Of course KBUX programming no longer runs off 14-hour tapes.  Skylla automation handles that task now, and the transmitter no longer fits in the spare bedroom (you'll see why in a moment).  Optimod 8100s are always a welcome sight.  Let's turn around and head to the living room.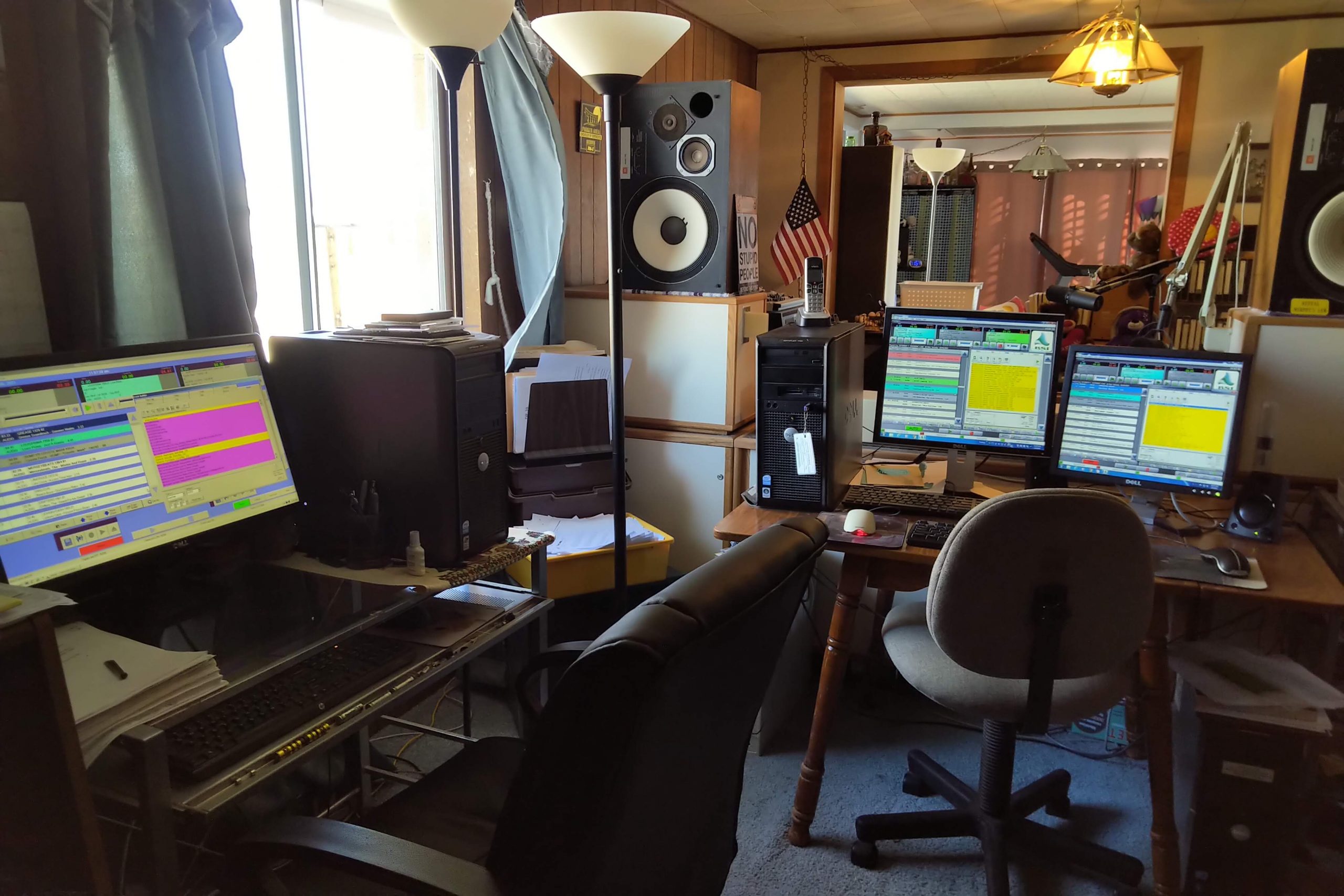 Here's where the logs are done for KBUX (which runs an oldies format always popular with snowbirds), and sister station KCNL-FM (known as Q105.9 broadcasting classic rock).  Marvin acquired KCNL in 2019.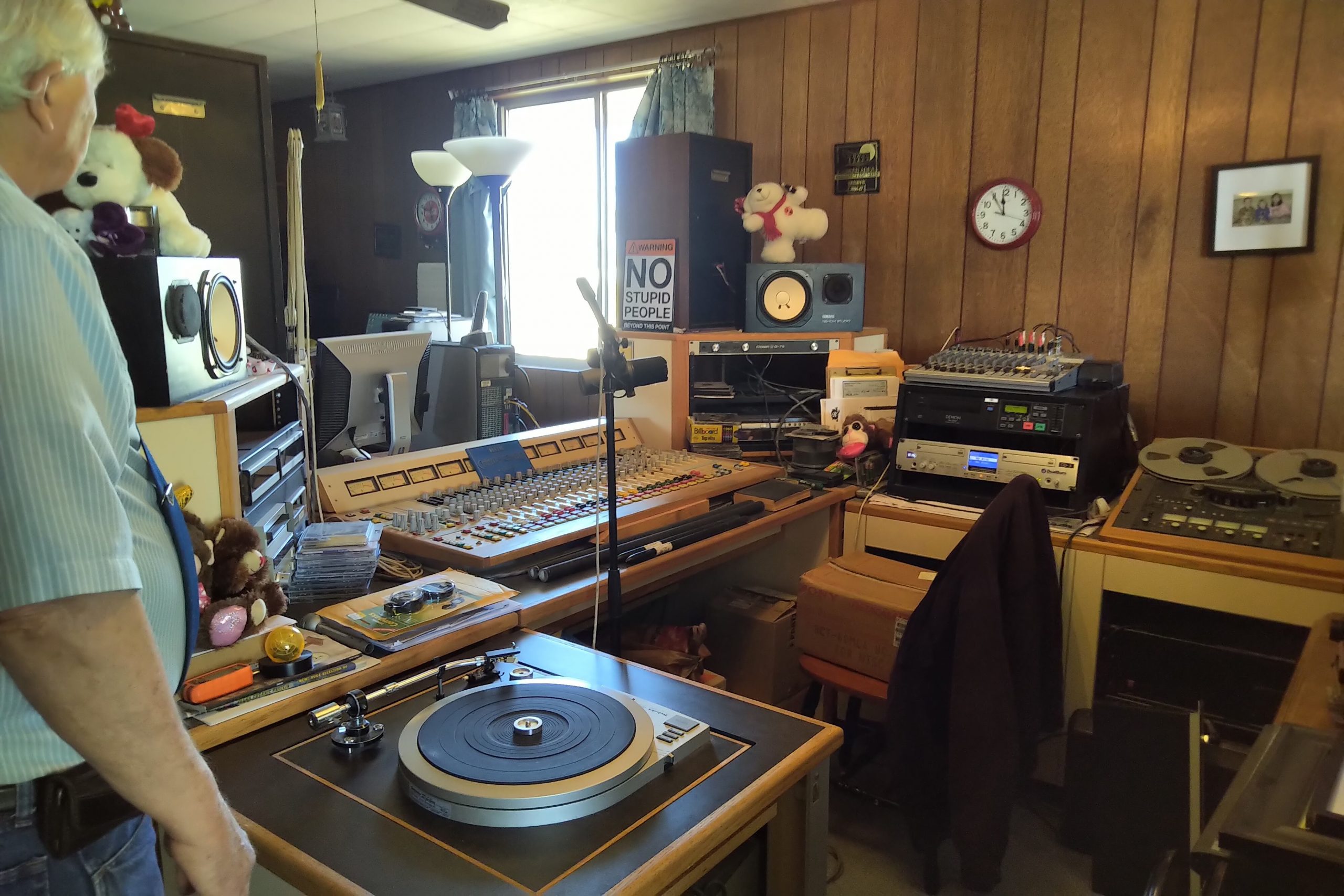 The production area takes up the other half of the living room.  Turntables and reel-to-reel machines set up just in case the need might arise to convert some older formats.
Now, I wonder what could possible be lurking in the garden shed…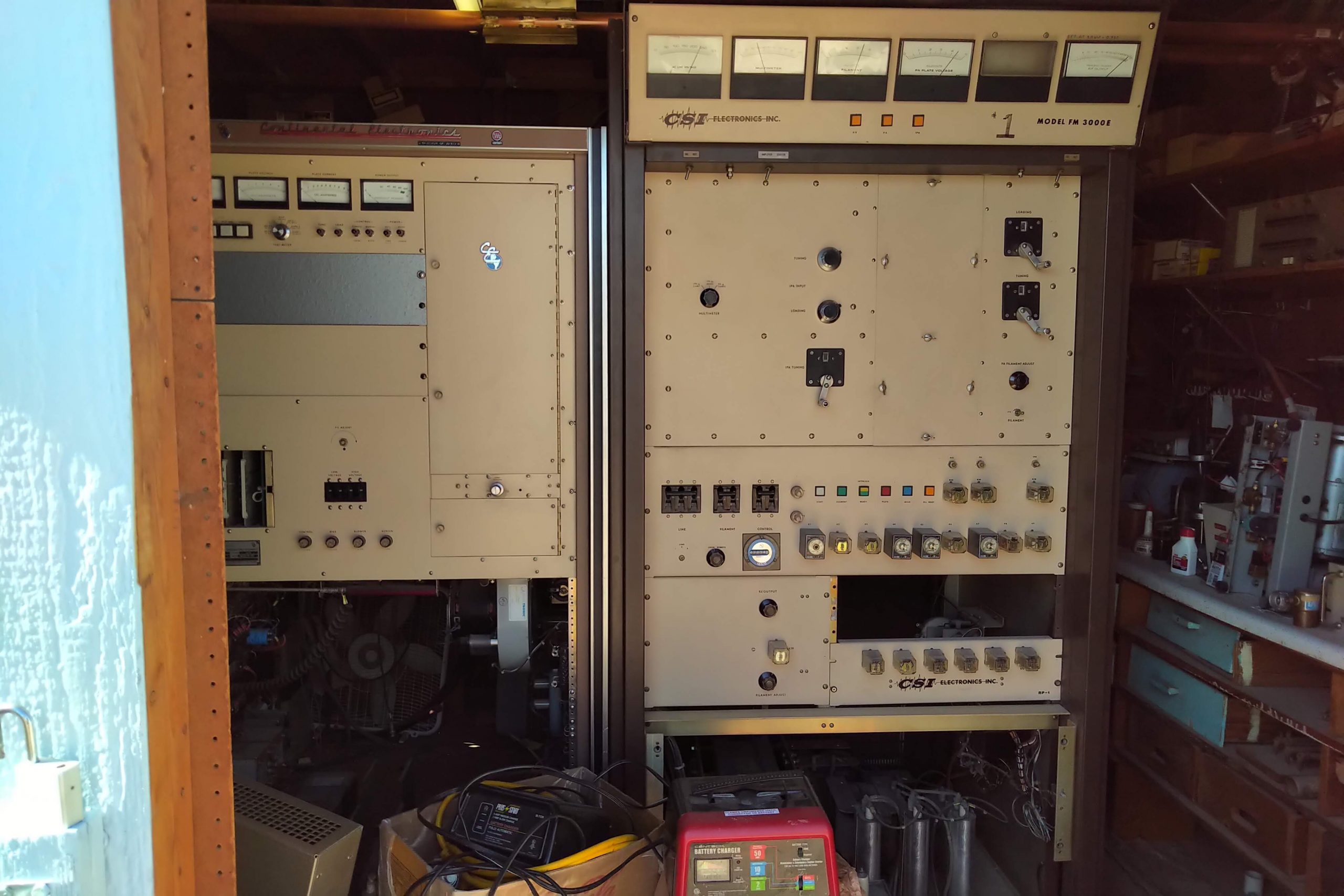 Here we have a CSI FM 3000E transmitter pumping out some RF for KBUX and a Continental which Marvin was working on making operational.  CSI transmitters seem to retain their popularity among DIY-minded engineers thanks to generous use of off-the-shelf parts.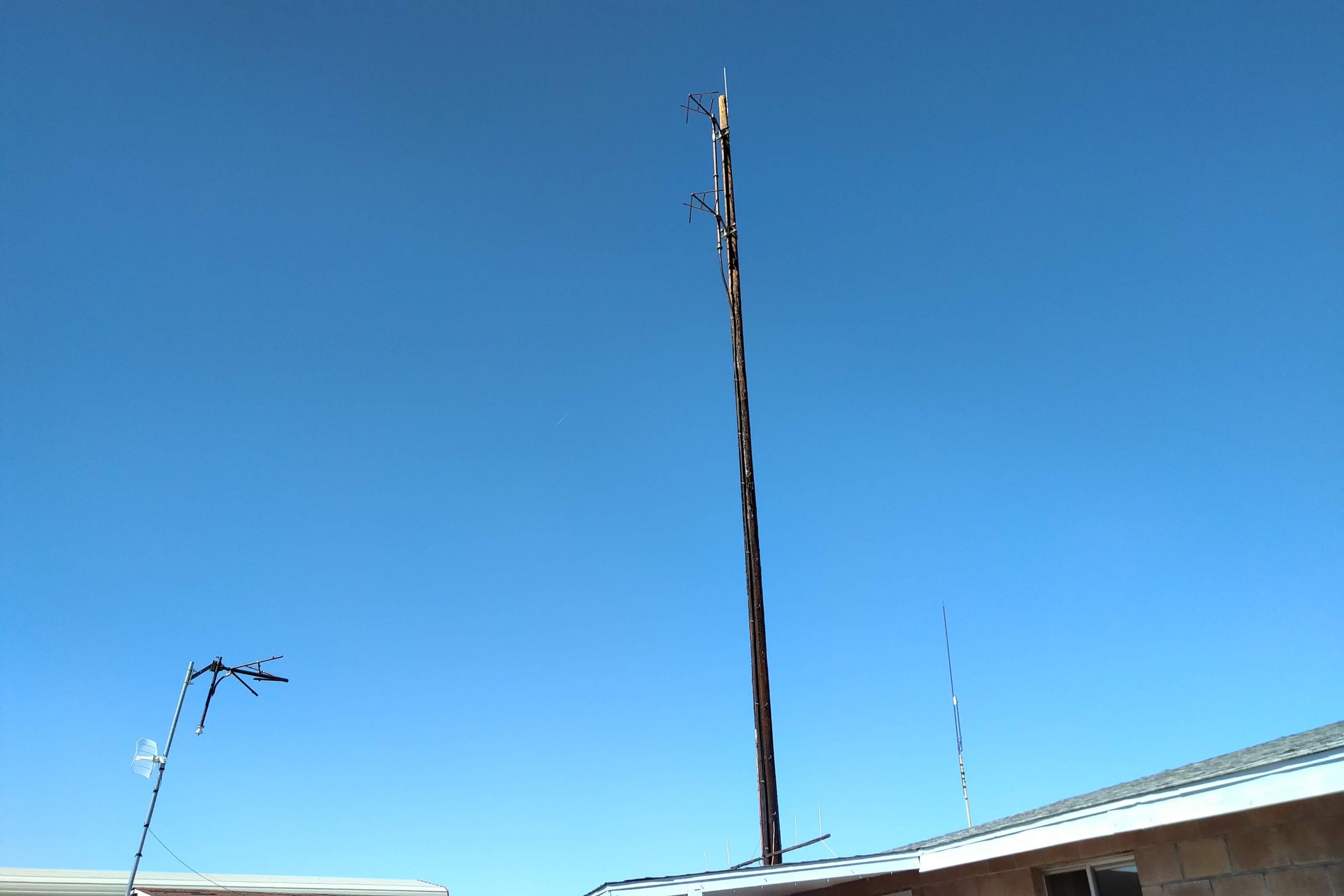 And here's the famous wooden pole still holding KBUX's antenna (and yes, those are new bays).  The dish on the pole in the lower left is the STL link to Cunningham Peak where Q105.9 is housed.  Note the single bay on the pole to the left – an eventual backup antenna.  Again you can see Marvin always had a project lined up.
There's no denying Marvin's impact on the Quartzsite community.  It takes a special person to pick up and run with a station like KBUX, and he and his family have done a great service to this quirky community by keeping the only two local FM stations on the air after the Buck Burdette era.  Go into any business in town and you'll probably hear one of the stations playing.  Quartzsite is luck to have Dennis and his family to keep the stations going.  As a lifelong broadcaster and family Man, I'm sure Marvin Vosper would be proud of his family picking up the reins in his honor.