KJAM-AM/FM is not the first radio station in a former bank building I've seen – I've actually worked in one at KABI-AM in Abilene, KS.  Anyway, Madison, South Dakota is a very friendly town to visit and I thoroughly enjoyed my recent visit.
KJAM-AM Studio
KJAM-AM Studio
I was greeted by Sports Director Carl Hauser as soon as I walked in the door.  I asked for a tour and he was happy to accommodate my request.  Hauser starts his day in the AM studio taking care of the morning show.  He used to be on the FM side, but has recently moved down the hall.
The fun thing about radio stations in former bank buildings is their use of the obligatory vault.  Back at KABI, we used the vault to store office supplies.  At KJAM, they actually use it as a production room (and tornado shelter!).
Outside the vault
Hauser shows off the cozy production room inside!
The acoustics inside the vault are great thanks to the addition of acoustic tiles.  According to the sign on the door, the studio can be used to broadcast during emergencies and is supplied with backup power.  An Arrakis 1200-10S console, Adobe Audition 3.0 and a couple EV RE-20's… the tried-and-true production setup of small and medium market stations across the country.
View of studios and offices from lobby
Inside the newsroom. The KJAM PD is hard at work.
Hauser asks me if I'd like to see the basement.  "Of course!" I say.  The basement houses the sales department "because we don't like them," Hauser kids.  I was glad to see the empty chairs, since it's generally a good sign when sales people aren't spending their whole day at the station.
Sales office 1
Sales office 2
I'm always so appreciative of people who take the time to show me their stations, and Hauser was in no rush.  It's always fun seeing different setups and I noticed a bit of humor on the AM studio door as I was heading out.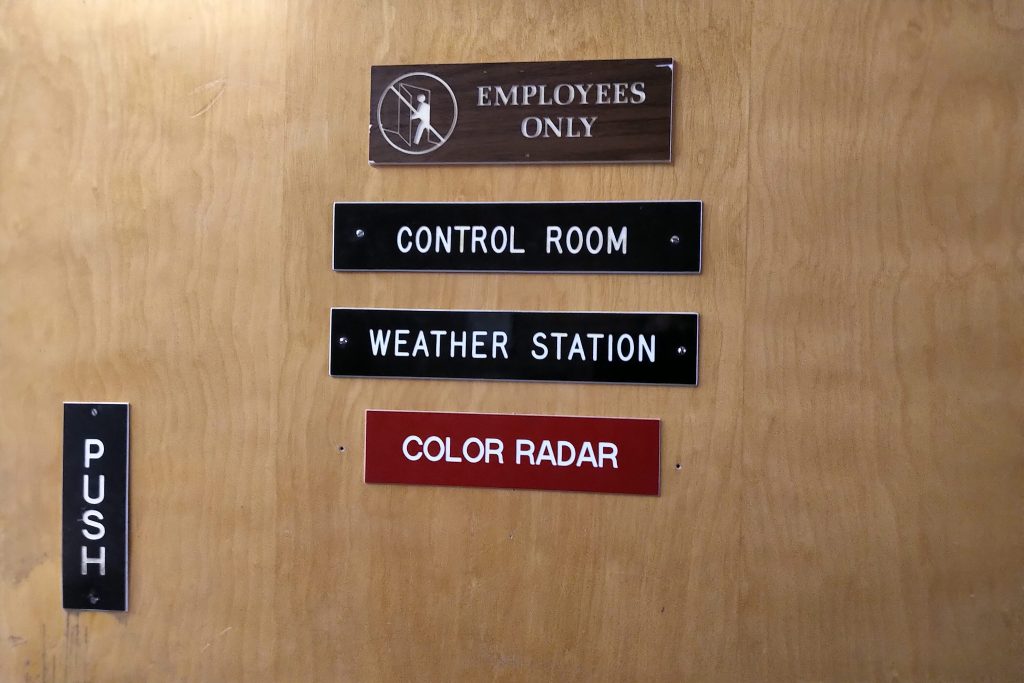 While there might actually have been a color radar on the roof at one time (there are suspicious dishes on the roof), Hauser thinks the sign is more of a joke now than anything.
We also popped in to the market manager's office before I left. Peg Roehrich was on the phone, but Hauser pointed out that her office also houses the break and conference room.  There's an interesting setup for you!
People in South Dakota are very friendly, and KJAM was no exception.  I thank Carl for the time and the tour, and I'll enjoy listening next time I drive through.